BUSINESS INTELLIGENCE
We are equipped with several tools, applications and methods that enable the collection of data from internal systems and external sources. We also prepare the collected data for a detailed analysis.
We develop and run queries against data. We also create reports, dashboards, and data visualizations to make analytical results comprehensible to our clients.
With our years of experience and the experts in the IP team, we design the perfect solutions for our customers. These solution designs can include warehouse management related solutions, transport related solutions, manpower related solutions, or any other supply chain related solutions that our consumers might require. We do our best at packaging these services together and providing our customers with the best prices for the same.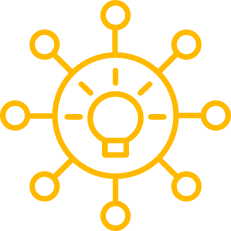 Our network designing service helps our clients to achieve maximum efficiency in their supply chain. We achieve this by optimizing their facilities, locations, and product flow. It also helps our clients revalidate and rationalize their existing supply chain.
We model warehouse layouts and help our clients in setting up new warehouses. We also help them remodel existing warehouses to help our clients with volume expansion.
We help our clients transform their warehouses and associate operations from a manual to an automated process by installing the latest software and technology.